Toronto day 7
2011/08/31
Today had three things in it: Shopping, the ROM and one last dinner with Nav.
Shopping
Remember all those stores I was reminiscing about the other day? I revisited a bunch of them today, without my camera bag so I could go inside.
I'm happy to report that the World's Biggest Bookstore is still pretty good – it hasn't degenerated into a gift card store like Chapters has.  Still two large floors packed with books, books, books.  It definitely is one of the biggest brick-and-mortar new-book stores in Canada still.
The Silver Snail is also still excellent.  They've got a good selection of new and old comics and action figures, but the real highlight is the busts and statues they have on display – very expensive, but amazing.  There were several variations on life-size Alien heads, a cutaway Millennium Falcon to scale with the old Star Wars action figures (of which they had many for sale), and best of all, some of Dr. Grordbort`s steampunk rayguns.
Active Surplus is not as diminished as I had thought.  They no longer have a storefront, but what they do have is stairs leading to a second-floor store that is still at least two thirds the size of what they used to have.  Plus it`s much better organized, so they may actually have more stock now – and they also have a second location now on top of it.  This store is an electronic nerd`s dream.  I grabbed a basket and walked every aisle, tossing anything that looked interesting in my basket.  I ended up spending well over $100 on random interesting junk, and could easily have spent more had I more time.
I went to check out Toby`s Famous Eatery, one of three restaurants claiming to inherit the mantle of my old favorite, Toby`s Good Eats. As a test, I had their Buster Brownie – the classic hot fudge brownie with ice cream dessert I love so much.  It was good, but nowhere near as good as it used to be.
I was going to go check out Bakka Books as well, but time was getting short so I skipped it.
The Royal Ontario Museum
I`ve always loved the old stone building that houses the ROM. I was distressed to learn they have grown this ugly crystalline cancer on the north side of the building:
But thankfully they didn`t remove any of the old building – it`s all still there, including the old entrance on the east side: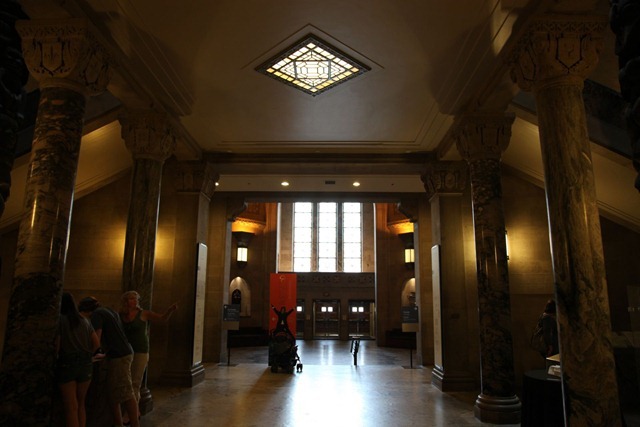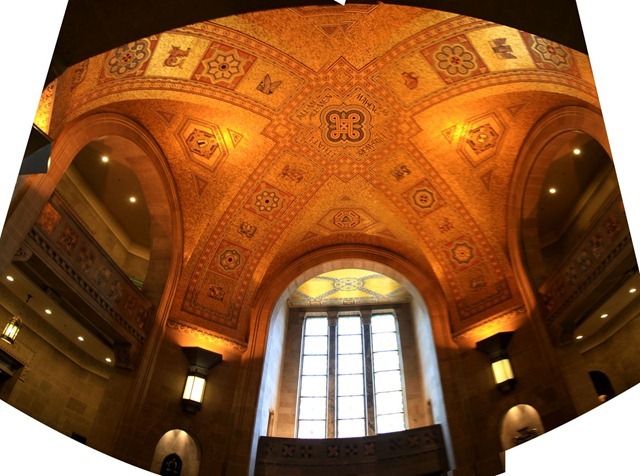 Due to time constraints, I concentrated on the two most interesting exhibits – paleontology and minerology, but also took a quick pass through the rest.  Assorted photos follow.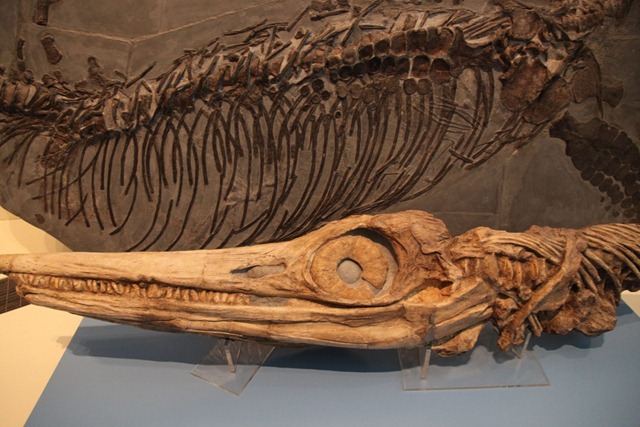 the paleo exhibit is really something – it gives a dramatic reminder of just how big some of these extinct critters really were.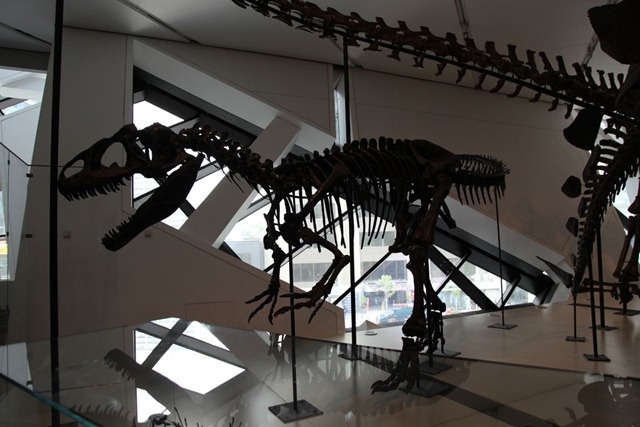 Interesting headgear:
Armadillo the size of a VW bug:
Meow: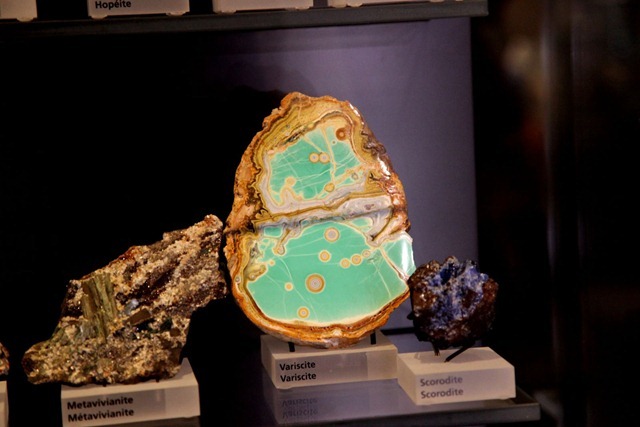 Check out these amethyst geodes. The first one is more than six feet tall.  I`ve always dreamed of finding a geode, but finding something like this would be mindblowing: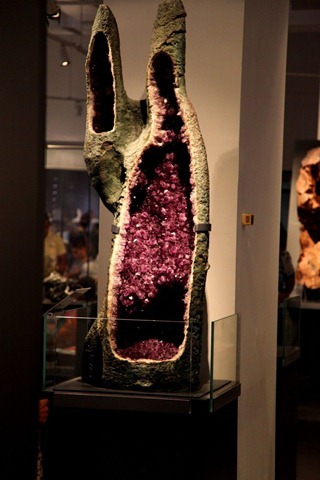 Slice from the largest black mica crystal ever found – three meters by two meters (can`t recall the original thickness):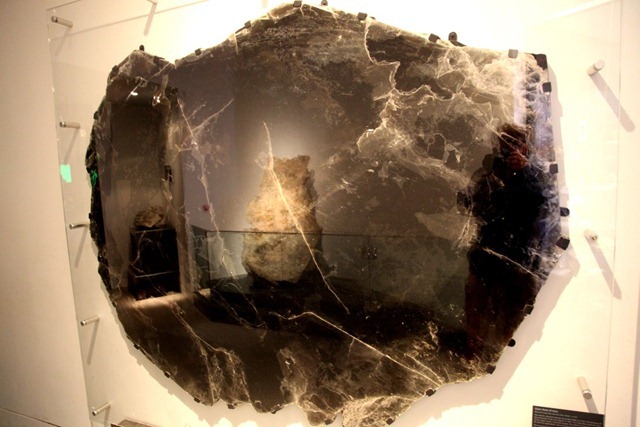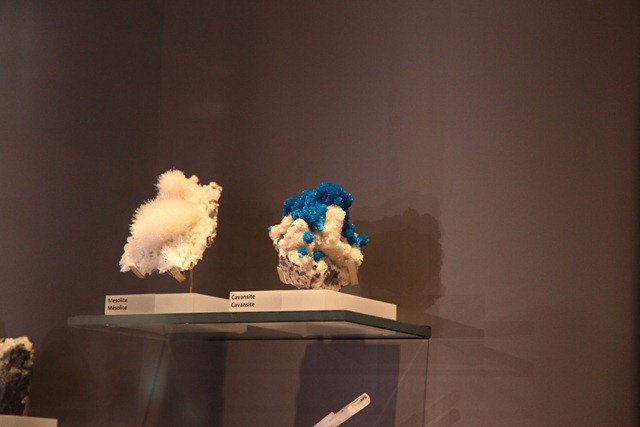 I like this art deco clock. Must make something like this:
Dinner
Got together with Navtej one last time, and he took me to his favorite Indian buffet – the Tandoori Flame in Brampton.  It was great.  The food was at least as good as my favorite Indian place out west, and there was a much greater selection here.  I tried a bunch of new things.  Nav made me try their white pumpkin desert – it looks like an ice cube. Unbelievably sweet – I couldn`t finish a single bite without setting off my coma alert warnings.  I don`t think I have ever tasted anything so sugary – not even pure sugar or honey comes close.
Back on the road tomorrow. I`ve had a nice break from driving and am ready to resume my journey now, and I`ve done everything I wanted to do in Toronto.
[gmap file="__UPLOAD__/2011/09/20110831.kml" type="satellite" visible="true" zoom="auto" center="files"]