Toronto day 4
2011/08/28
Had occasion to stop by the St. George subway station today.  Another memorable building razed:
This building, or rather the one that used to be here, across Bloor from the varsity stadium and across the other street from the subway station, was significant for three things.
First, this was the location of what I thought of as the primal Swiss Chalet location – they always seemed to have the best chicken soup here.
Second, my mother lived above that Swiss Chalet with her first husband for a while.
Third, around the corner from that Swiss Chalet was a copy shop that had self-serve photocopiers for the obscenely cheap price of 5 cents per copy, back when I was a student at GBC.  When I was at the nearby Casa Loma campus I always came here to do my photocopying, and even copied an entire book once.
Today I went to the CNE. The only photo of note is of these cute miniature horses:
The rest of is is the same as any other fair like the Calgary Stampede or the PNE, just much larger.  I had those miniature cinnamon donuts, looked at the housewares and arts & crafts, played some midway games, etc.
Like those other fairs, the CNE used to have a pretty good temporary arcade on the midway. I played a lot of Crude Buster last time I was there. This time I found two tents identified as arcades, but one only had UFO catchers and the other one only had a handful of crap games.  What a waste, but not unexpected.
I also found a really good dessert place in the food building – had a nice, dense chocolate cake and there were several others I wanted to try.  Unfortunately the proprietor only operates at the CNE and doesn't have a regular storefront I can go to another time.
I walked over to Ontario Place to repro these two photos:
The first is the distinctive Ontario Place buildings of the future.  The only thing I remember about them is that last time I was inside, in one area there was a video loop playing various early CG animation shorts to some catchy proto-techno music, and I was mesmerized by it.  I spent most of an afternoon there watching that loop over and over again.
the second picture is me in front of the Cinesphere, home of the Ford Film Festival. We used to attend the festival occasionally to watch the year's best films on the IMAX screen.  I always wonder why other cities' IMAX theaters don't do that – it's a great idea.
Anyway, I couldn't get a clear picture of whether or not I could go on the Ontario Place grounds without paying admission, so I settled for taking this picture of both buildings instead:
After concluding my bidness at the CNE and Ontario Place, I got back on the streetcar and headed to Queen Street, home of a few of my favorite places in Toronto.
Spotted this interesting storefront.  If it says anything let me know:
Also thought this was cute (look closely at the second floor of the corner building):
Also, WTF? This might work for Apple, but it's not going to work for you:
Favorite spot #1: The Silver Snail.  A fancy upscale comic store. The storefront has changed, but it's still there: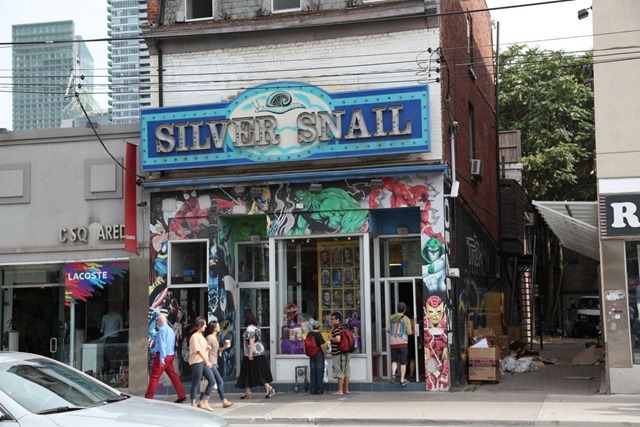 Favorite spot #2 (this is all within a single block of Queet Streen BTW), Bakka books – specializing in science fiction and fantasy. It appears they have relocated. They used to be here: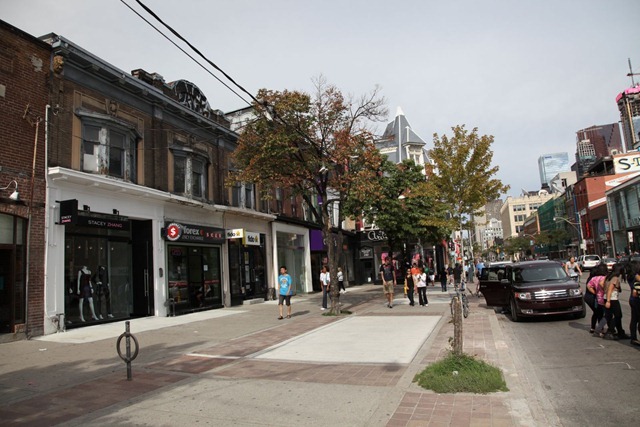 Favorite spot #3: Active Surplus.  They used to have a double storefront and basement, but are now reduced to this little loft:
Active was an electronic nerd's dream store back in the day.  They had mass quantities of all the usual electronics supplies at great prices, but they also had lots of really random stuff that would come and go – ie actual surplus.  Things like laserdisc players (cannibalized one for the laser, back when lasers were expensive), photocopier control panels, assorted LCD displays, servo systems, etc.  Even sometimes had non-electronic surplus like comics – a large chunk of my comic collection came from here because it was super cheap and they had some really oddball stuff, some of which, like Mars and E-Man, turned out to be pretty good.
Favorite spot #4: Just around the corner from Bakka…
… I think in that garage door at the end of the building, there was another electronics surplus store.  They tended to have even more obscure stuff that Active, and Nav and I used to go into both regularly just to see what they had.  I bought some pretty nice LCD displays at this place for steal prices.
No tour of Queen Street would be complete without the CityTV building:
I liked CityTV a lot back when it was young, back when Moses Znaimer was in control. They ran great movies every night (the bulk of my VHS tape collection was recorded off CityTV) and had some good original programming too.
I saw John Candy getting out of a limo in front of this building once.
CityTV also had the best program announcer ever. I don't know who he is though!
And the famous CityTV parking lot:
Where many, many news reports and interviews were filmed.  There were often creative gimmicks visible here too – it's CTV now, but still note the truck crashing out of the billboard below the logo. Its front wheel spins too.
Continued on to the Eaton Centre, with its iconic flock of geese:
There is a two-floor McDonald's here where Nav and I sometimes ate. One time we were sitting on the second level when I accidentally spilled my water on the table.  We thought nothing of it, until a few minutes later a staff member came up to ask about it – apparently the water had landed on a businessman on the first level, and he was pissed.  Poor architectural design there!
Just north of the mall, I'm glad to see the World's Biggest Bookstore (no longer a guarantee) still present:
This was my favorite new bookstore back in the day, because it was the world's biggest bookstore!  Also Nav's friend Todd worked here. Hi, Todd!
Around the corner from the bookstore on Yonge Street:

There used to be two really grungy arcades on this block.  They were narrow but very deep – the back end was a ways from the street.  My parents were leery about me going in here, always concerned that I would get framed on drug charges because someone would slip something in my back pocket when the OPP came in on their regular patrols.
Played a lot of Hammerin' Harry here, and Nav and I ogled that cheesy "holographic" game when it came out, but we never wasted any money on it because it was clearly a gimmick, not really holographic, and not much of a game either – following in the Dragon's Lair footsteps of trying to pass off visuals as a game.
And that's it for today's trip down memory lane.
BTW, if you're bothering to look at the GPS tracks on my posts you'll find them a little glitchy while I'm in Toronto, because my logger loses signal while I'm in the subway. I should tweak my processing software to insert breaks in the path in those cases, but I don't have time at present.
[gmap type="satellite" visible="true" zoom="auto" center="files" file="__UPLOAD__/2011/08/20110828.kml"]