Toronto day 5
2011/08/29
Today I revisited George Brown College again, both campuses.  Starting around 1988 and ending around 1991 I took a couple of certificate courses and a diploma program in electronics at GBC.  During that period the electronics program moved campuses from the St. James campus, downtown on King Street, to the Casa Loma campus.  That was a perfect time for a packrat like me to be there, as they simply gave away a ton of old electronic equipment rather than bother moving it.  I took a lot of it, and had some fun lugging it all home on the subway in shopping carts and hockey bags.
St. James campus
This is on the west end of the 5th floor, looking north.  The door on the right used to lead to Mr. Sarker's office – I don't recall what his title was, but he was the one I had to get past in order to be admitted to the program.  I found him a bit intimidating and it wasn't easy to get in since I had been homeschooled up until then and had no official Ontario grade 12 or 13 standing, but Mr. Sarker agreed to let me write the same entrance exam that they gave foreign students and I passed it easily.
This is now at the northwest corner, looking east.
The room on the left that has the windows in the "before" picture was the open computer lab for the electronics department students.  It had a few IBM XTs and a bunch of teletypes in it – the latter being used to take computer-scored math tests administered by a minicomputer at the other campus.  (I had the distinction of finding errors in one of the math tests, and getting points for it once I made the instructor work through the problem himself.)
For about half of my time at GBC I was in charge of maintaining the PCs in this lab and in the CAD lab further down the hall. I did the same after we moved to the other campus.  That was a blast – I learned a lot about PCs and snagged a lot of "evaluation copy" software for myself.  Plus I got to keep the lab open for students to use during the teachers' strike, and pulled in a large TV set to hook up and play games on.  Ahh, abuse of privilege.
Casa Loma campus
The Casa Loma campus has also had extensive renovations.  Then:
Now (slightly different perspective):
The building and stairs on the left are all new, and the campus has expanded into several nearby buildings (as has the St. James campus).
This lonely, difficult to find room at the back of the fourth floor is where we did some of our most difficult courses, and where we worked on our "thesis" projects to complete our electronics diploma program.  Those were fun times and we (meaning our class, as we all went through as a cohort) were a really close unit by then.
Towards the end we had a class picnic over on Center Island, which is an awesome picnic spot – often cool in the summer because it's surrounded by water. I went there today to relocate the picnic site and redo a couple of other old photos.
These three are from the class picnic outing: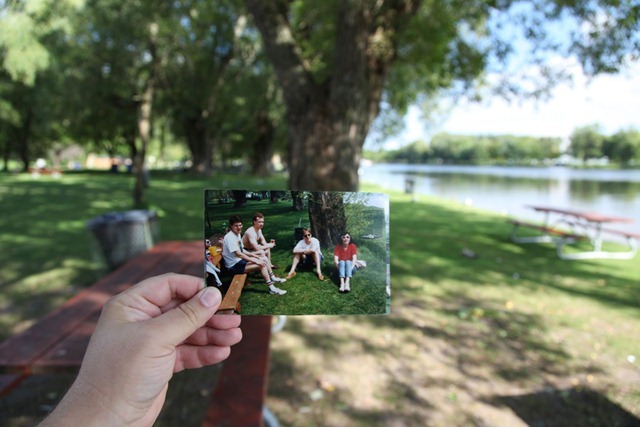 Waiting for the return ferry:
Too many stories to tell from that class.
On another occasion, me with my paternal grandma, Cecile:
Miscellaneous Center Island then and now: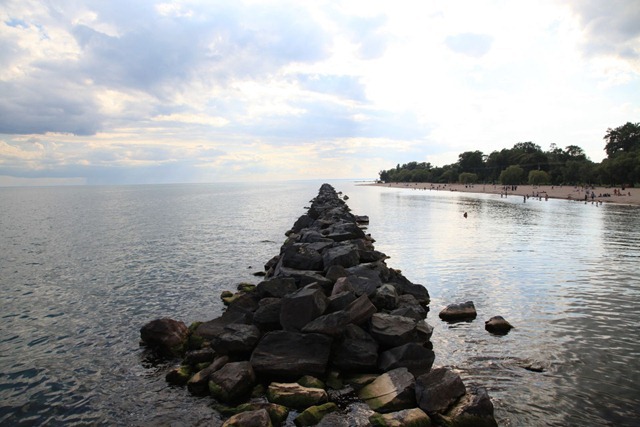 If nothing else this demonstrates an improvement in photographic technology.
While I was in the Casa Loma area, I also returned to check out our first Toronto residence, 42 Dupont Street: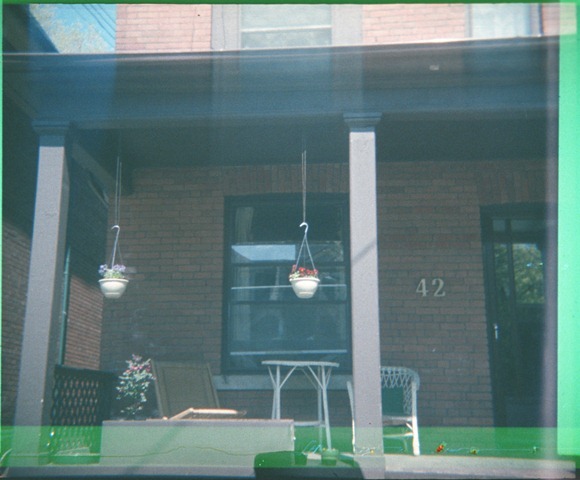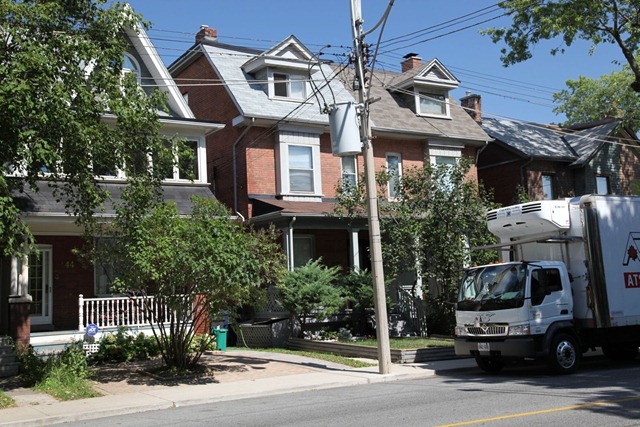 It hasn't changed much. When we saw my mother off at the train station in Brandon that one winter, she got a room in this house – actually two very small rooms at the front.  Once she found work, my father and I came out to join her.  It was very cramped, and though we weren't supposed to have the dogs inside, we sometimes did bring them in rather than leave them sitting in the truck for all to see.
Shared kitchen and bathroom.  Very thinly blocked off door to the rear apartment where we could hear a clearly disturbed man making noises for himself.  Freight trains in the back yard at all hours. It wasn't a great experience.  But the landlady was very nice, and she let us house-sit her condo down at Harbourfront for a while when she was on one of her frequent tropical vacations.
And my third major destination for today was:
The CN Tower, Canada's greatest phallic symbol.  Interestingly, the blurbs inside still refer to it as the world's tallest tower, though it isn't anymore.
I've been in it once or twice before, but I barely remember it. I took this panorama on the previous occasion: 

And here's my do-over from today: 
I'm a bit annoyed that the main observation deck is one-third occupied by the restaurant – the lower deck where you can walk all the way around has its view obscured by safety fencing, though I did put some effort into defeating that using narrow depth of field – a couple hundred photos worth, which will have to wait until I find some gigapixel stitching software.
I could have gone up to the even higher observation dome, which I would hope has an unobstructed view all around, but there was an 80-minute wait for that, so I passed on it.  Instead I went into the restaurant and coughed up $17 for "Canada's Best Burger" (false advertising) and finished the panorama there. Also here's another shot of the gold building from that perspective:
Also had a mind to check whether or not photography is permitted on TTC property and it is, for non-commercial purposes, so here's a shot of Union Station:
And Bloor Station:
I know Toronto's subway system isn't unique in this respect, but I think it's a nice touch that every station has a slightly different combination of color scheme, tile shape and tile pattern – each station has its own unique look and feel, and once you get familiar with them you know what  station you're at just by the blur out the window.
I love the subway. I could see myself living in Toronto again if I could ride the subway every day.
[gmap file="__UPLOAD__/2011/08/20110829.kml" type="satellite" zoom="auto" visible="true" center="files"]