Back in Thunder Bay
2011/09/21
Wow, today was a long day.  520km in 7 hours – which is pretty good considering it was pouring rain most of the day and I took a bunch of breaks.  Luckily the roads were mostly in very good condition and I didn't have to worry too much about water pooling on them, so I was able to go at the speed limit (90km/h) most of the time.
It was cold and damp.  When I stopped for lunch (a sandwich in a picnic area next to a small lake) I had to put my coat and toque on, and my hands still got painfully chilled.
Today I drove through what someone on Google Earth calls "The Big Empty" – a 200km stretch of very straight road with no towns – indeed, almost no signs of civilization at all. Just road, trees and sky for a bit over two hours.  Basically this, forever:
There was very little traffic too – just a transport truck every few minutes.  The isolation plus the cold and the rain created a little bit of that peculiar Canadian man-versus-elements-and-bleakness feeling that I relish.
The landscape was still mostly flat until the town of Beardmore, where the road turns south into the Palisades.  Between there and Nipigon was gorgeous, especially with the fall colors – actually now that I think of it, just like a bit of BC dropped in the middle of Ontario.  And with the heavy rain, the many waterfalls were in full bloom: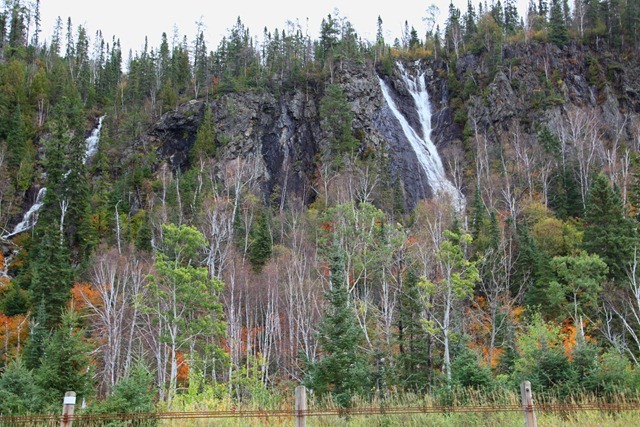 Spotted this abandoned church in the town of Longlac (which is at the tip of a very long lake indeed):
I have actually seen lots of abandoned buildings in Ontario, and yes, shame on me for not taking more photos of them.  But for the record, if any of you UrbEx photogs want to get out and see them: I saw a lot of abandoned motels and gas stations between Sudbury and Barrie, and quite a few abandoned houses along the road between Cochrane and Hearst.
Fall colors are out in force now – too bad today offered little chance to shoot them.
[gmap type="satellite" visible="true" zoom="auto" center="files" file="__UPLOAD__/2011/09/20110921.kml"]