Today's Adventure: Manning Park first pass
I've been itching to get out of the city for a while, and a long weekend is a good chance for that. I've had my eye on Manning Park for a while – ever since I noticed on Google Earth that there appears to be a road going all the way up one of the mountains off Highway 3. I figured there would be some good views from there, as confirmed by finding other peoples' photos from that road.
I had also noticed some nice scenery in the area last time I passed through, on my way home from vacation in Calgary a couple of years ago. But the scenery is very weather-dependent. I thought it would look good under snow or fog, or in the fall. So I set up an overnight job to record every image from the only road conditions camera in the park. Flipping through them this morning it looked like the park got a good snowfall overnight but the road was clearing up nicely, so off I went.
It was overcast but dry most of the way, but as I reached Hope I ran into a serious hailstorm. Small pellets, but lots of them hammering my windshield. I had to slow down due to poor visibility, the road being covered with ice pellets and slush building up on my windshield and hood too.
Opon reaching the park I was rewarded with nicely snow-covered trees, clearing skies and clean road. But I was disappointed to learn that the lookout road is only open July to September. I couldn't find that information online anywhere – shame I had to drive 150 miles to learn it, but I'm still glad I did.
So I went to the Lightning Lake day use area and did some trudging around in the two feet of snow. Got a handful of OK pictures.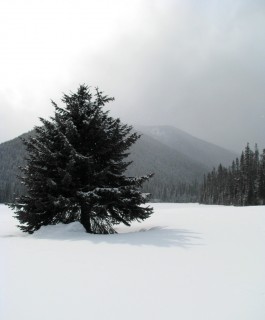 See also today's 365 entry.
Then started heading back. By the time I reached the Hope Slide area I met that storm again, only now it was a blizzard. I was driving through whiteout conditions for a while. It was gorgeous.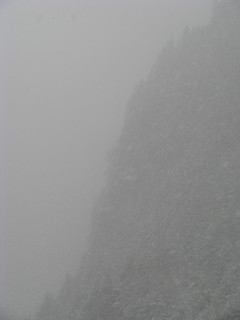 The sky mostly cleared up and the sun came out at Hope. Took the Lougheed Highway home from there for a change of scenery. End of story.
I really enjoyed this outing and I spotted a bunch of beautiful pictures that I couldn't get because there was no place handy to stop on my side of the road. I must go back and do this stretch of road again in the summer (to get the lookout) and proper winter to get the things I spotted along the road.
[gmap file='http://www.soleillapierre.ca/blog/wp-content/uploads/2010/04/20100403.kmz']