to Saskatoon
2011/09/26
Wow, this was a long day.  I was behind the wheel for nine hours today – by far the longest day on this trip in terms of driving time.  Do not want to do that again.
Left Wasagaming via the north exit from Riding Mountain park – here's the view to the north.
I've only ever been this way once before, when my mother went to see some sort of motivational speaker in Dauphin and I went along for the ride.  I don't remember much about Dauphin at all, and I elected to bypass it this trip.
Next stop to the west was Roblin, which we went to several times while we lived at the farm.  I don't recall why we went there though.  There was a playground I liked that had one of those fat, short, shiny slides – it got scalding hot in summer.  And this building:
used to have an arcade in the basement.  It's the only place I have ever seen a Black Widow machine – that game was really hard to play.  This is also either where I first played Stargate, or where I most played it.  Mastering those space cadet controls was half the challenge.
On one of our trips to Roblin, I discovered a hard lump on my elbow.  We went to a local doctorb to have it looked at.  She said it was just a skin cyst and would grow out in a couple of years.  Well, here I am more than twenty years later and it's still there, unchanged.  That's how I know it's a Thought Police tracking device. :)
Moving on from Roblin, I stopped for lunch in Yorkton, then got on to what we called "the back way", which was the most direct route between our farm and Calgary – mostly consisting of highway 15.  It cuts straight across Saskatchewan, passing between Regina and Saskatoon.  We liked this route because it was more direct, and had much less traffic than the more standard Trans-Canada or Yellowhead Highway routes.  I wanted to revisit it at least partway for old time's sake.
Well, it never was a terribly great road but now it's in awful shape.  Some sections have nasty pothole problems and sags from heavy grain trucks and farm equipment abusing it, and some parts have even been replaced with gravel – an improvement over the state of the adjoining paved sections.
One thing I remember about this route now – it seemed interminable.  That is still true.  The road is very straight and very flat.  It mostly looks like this: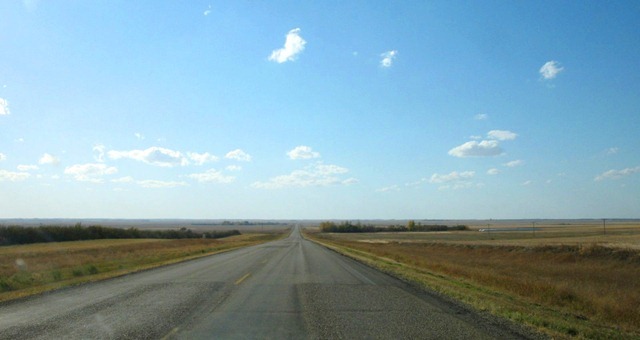 My destination for today was Saskatoon but I took a slight detour to visit the town of Outlook, because I wanted to rephotograph two landmarks there.
The first was a roadside… thingy… called Boot Hill – basically a fence with dozens of different kinds of boots nailed to it.  I didn't find it today, but perhaps I didn't go quite far enough.  Not a big deal.
The second was the impressive train bridge over the river valley near the town:
The train tracks have been removed and it's now the longest foot bridge in Canada – more than three quarters of a mile long.  I think it might be part of the Trans-Canada Trail now.
Here's the view from the town end:
And looking south from the middle of the bridge, towards where I took the first picture:
After that, I just continued on to Saskatoon and got my room for the night.
Here are a couple more prairie ruins for you: